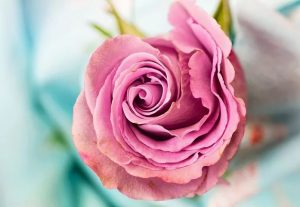 Overcoming Psychosis: Stephanie Anne Allen
Stephanie is a mental health advocate and author who is fully recovered from schizoaffective disorder.
Stephanie had a happy childhood. She dreamed of becoming an oncologist and pushed herself hard academically.
At age 15, she began to experience racing thoughts and grandiose ideations which marked the beginning of her bipolar disorder. She also began to self-mutilate, cutting herself with razor blades.
Despite bipolar disorder, Stephanie kept three jobs and maintained straight A's in full time high school. However, a month before her high school graduation where she was to be valedictorian, she attempted suicide. She was admitted to the hospital and released after two weeks.
During her first year of college, Stephanie discovered she was attracted to a woman named Emily, and not attracted to men. Her family disapproved of same-sex relationships, and she was haunted with guilt. After her college graduation, she landed a position caring for mentally ill elderly persons where she was successful, but after breaking up with a new woman she was dating, she again sank into a deep depression.
At that time, Stephanie began to suffer from delusions. She believed her mother had stolen and sold both her own eggs and her brother's sperm and had been paid a million dollars. She also believed people were communicating with her through encrypted images on her computer. She sensed electrical shocks running throughout her head and body, which were a hallucination.
Stephanie went on medical leave from work, and would be hospitalized five times, growing more and more paranoid that she was going to be killed. Outside the hospitals she smoked, which made her medications less effective, and she refused medication. She spent the next six years in a psychiatric treatment center, but she was convinced that she was "too smart to be crazy."
Upon her release from the treatment center, Stephanie lay in bed for almost 24 hours a day. Her voices worsened. Multiple psychiatric hospitalizations followed. She badly needed an extended hospitalization, but instead, she fell through the cracks and suffered alone.
In April of 2015, Stephanie woke up to voices in her mind which commanded her to defend herself by burning an imaginary enemy. Terrified, she lit her apartment on fire. When police arrived, she was honest with them, explaining that she was actually saving everyone in the apartment from harm. She explained that the fire was a necessity, for the protection of the tenants.
Stephanie spent the next month confined in a hospital. After her insurance ran out, she was taken to jail, denied badly-needed medication, and left in solitary confinement for two months. Her condition worsened. Stephanie was so psychotic, she was not even sure where she was and wondered if she was actually in the basement of a church. While in jail, she believed she was the reincarnation Joan of Arc. She was too psychotic to feel guilt or any awareness that she had done anything wrong.
Fortunately, Stephanie's story would have a happy ending. After two months in jail, still psychotic, she was committed to a forensic psychiatry center and remained there for sixteen months. After a few months on medication, her mind was clearing, and she began to consider the rest of her life. Stephanie developed insight into her condition and realized she would always need medication.
Eventually, Stephanie was granted the status "Not Guilty by Reason of Insanity." With the right treatment, the voices that had been with her for thirteen years began to finally vanish. She left the Forensic Center and embarked on a second chance at life.
On her release, Stephanie rented a new apartment, began seeing her old doctor again, and reapplied for mental health services. She took her pills as prescribed and was careful to get enough sleep. Establishing new goals for the future, she got a car, become a peer support specialist, and wrote her memoir.
Stephanie has learned that she is so much more than her psychiatric diagnosis. She realizes that she is a determined, brave, and courageous individual who just happens to be inflicted with mental illness. She believes that what she has suffered has shaped and molded her into a much better version of herself.
Stephanie published "My Mental Madness Memoir" in 2017 and also penned the "How to Survive" series, nine books about surviving various mental health conditions including schizophrenia and depression. She lives in the United States with her two guinea pigs and works as a NAMI Connections Peer Support group facilitator.
Today, Stephanie seeks to raise awareness of severe mental illness, and to help more sick individuals stay in hospitals where they receive treatment. People with severe psychiatric illnesses do not belong in jails and prisons.
Stephanie's books can be purchased on Amazon.com. 675 Deis Drive
Suite N, Box 192
Fairfield, Ohio 45014
© 2019 CURESZ  |  All Rights Reserved  |  Powered by Geek Genius