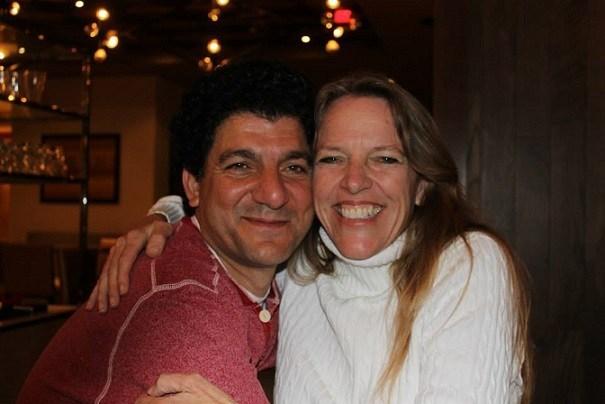 Stories of Hope: Rebecca Chamaa
Rebecca Chamaa graduated with a liberal arts degree from Evergreen State College in 1989. Originally from Washington state, she attended an American high school in Cairo, Egypt, where she met her future husband.
Following her college graduation, Rebecca began her career as a social worker, where she thrived from 1989-1993. However, in 1993, at the age of 28, Rebecca began to struggle with paranoia. Believing that her food was poisoned, and that people in her life were conspiring against her, her symptoms worsened. When Rebecca's mother and aunt noticed her paranoia, and that she could not sit still, they convinced Rebecca to obtain a psychiatric evaluation.
Rebecca went voluntarily to the emergency room and started inpatient treatment on the psych ward. She was originally diagnosed with bipolar disorder. Her doctors began her on an older antipsychotic medication. It helped significantly with her symptoms, and would keep her stable for most of the next thirteen years with a few instances of psychosis. From 1993-2006, Rebecca would be busy with many jobs, including work as a library technician, a marketing coordinator, a salesperson, and a caterer.
After Rebecca had a short period of stability, she attended a high school class reunion where she saw her future husband again. They married in 1998, and are still happily married to this day.
Following her marriage, the Chamaas purchased a condo in the Los Angeles area. Throughout the years, she and her husband have enjoyed traveling the world, including trips to Paris, Abu Dhabi, and Dubai. In 2006, they took six months off to tour the United States, and on their return, they settled down in San Diego.
That same year, one of Rebecca's doctors believed that Rebecca was not mentally ill, and convinced her to discontinue all of her medications. After discontinuing her medications, Rebecca became acutely psychotic, and her symptoms lasted for several months. Finally, after several medication changes, Rebecca began a newer medication which she takes to this day. Her diagnosis was changed to paranoid schizophrenia.
On medication, Rebecca again resumed normal personal and professional life. She landed another job as a social worker, where she worked from 2006-2011.
Today, Rebecca finds purpose in sharing her life with schizophrenia. She has written articles for Teen Vogue, Ravishly, The Fix, The Mighty, Role Reboot, Roar, Good House Keeping, and Women's Day.
In 2015, Rebecca found the courage to share how she was preparing to jump off a Seattle bridge when two strangers interfered and persuaded her to return to safety. Rebecca sought to find these strangers and thank them. Her story, along with a call to find these strangers, was featured on December 24, 2015 in People Magazine.
Today, Rebecca's goal is to start conversations about schizophrenia in the mainstream media. Her most recent article discusses the role of makeup in helping her cope with the stress sometimes associated with schizophrenia, and will be published in Byrdie Magazine.
Rebecca considers herself a lifelong learner, and enjoys taking writing classes at UCLA.
Although Rebecca experiences some residual symptoms every day, she is able to pursue purpose and meaning in my life. She currently in a certificate program at Columbia University.
Though there have been bumps along the way, schizophrenia has never stopped Rebecca from achieving excellence at her work, becoming a prolific writer, or having a fulfilling marriage and a happy life.
You can contact Rebecca at Ajourneywithyou.com
Rebecca is pictured above with her husband.