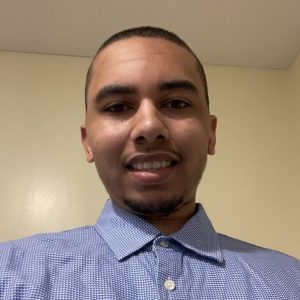 The Road to Recovery: Emeka Chima
In 2020, Emeka Chima earned an Associate of Arts degree from Montgomery College in Information Systems. At Montgomery College, he was a Dean's List recipient twice, and was inducted into the Phi Theta Kappa Honor's Society. He currently works as a Database and Campaign Intern for a health care and nutrition company. Additionally, he is an undergraduate student at the University of Maryland Global Campus striving toward a Bachelor's degree and a future job in the IT field.
Raised by his Nigerian father and his mother from Washington, DC. Emeka experienced a happy childhood. He enjoyed helping to care for his two younger sisters. In high school, he played soccer and flag football, winning three trophies. His mother was a project manager with the Department of Defense, and he longed to follow in her footsteps by embarking on a similar career as an adult.
However, about age 15, everything began to fall apart.
In August 2014, Emeka began to hear voices in his mind. Initially, while in class, the voices would command him to look away into the distance. Gradually, the voices became more powerful, telling him to isolate himself from others, even family members whom he loved.
One night, the voices commanded Emeka to cut himself with a knife. He became delusional, believing that if he just hurt himself, "everything would be fine." He remembers panicking and screaming as he waived a knife into the air. Looking back, Emeka struggles to describe his thoughts at the time. He felt as though he needed to run away.
Emeka's aunt heard him screaming and de-escalated the situation, calming him, as she convinced him to put down the knife. Afterward, Emeka felt guilty for "acting out," unaware that he was struggling with the onset of severe mental illness.
A few weeks later, Emeka had a similar experience again, brandishing another knife, but this time he was alone. The voices commanded him to keep the knife with him at all times for self-defense. Though the voices sounded like a family member to Emeka, he realized that his family would never want him to harm himself. In the following days, Emeka shared with his father that he was hearing voices, and stated that he might need help.
Soon after, during the night, Emeka began hallucinating again. This time, he heard a crowd of people, each one visiting him in error, as though they had gone to the wrong address. As the night went on, Emeka heard a voice consoling him, and confirming that everything would be okay, as well as another voice telling him to hurt himself.
The next morning, when Emeka's father visited Emeka in his bedroom, he thought Emeka might be having a seizure. Emeka's paternal grandfather had struggled for many years with bipolar disorder, and his father suspected that Emeka was also mentally ill. Together, they went to the hospital.
While in the hospital, Emeka was diagnosed with paranoid schizophrenia. He was still only 15 years old. Despite the devastation of being told he had a disorder of the brain, Emeka learned that his symptoms could be explained by his diagnosis, which gave him relief. He also discovered there was treatment. After three weeks on the psychiatric ward, he achieved stability, was discharged, and returned to school. He was still a junior at that time.
The next year was difficult for Emeka. The first medications he tried left his eyes bloodshot, and he felt like he had a hangover though he never drank alcohol or abused substances. He did not have a regular doctor and often forgot to take his medication. Over the next year, he was hospitalized four times for breakthrough symptoms, with little benefit.
However, during September of Emeka's senior year of high school, he had a new start when he was accepted into a treatment program called "Epic" through Johns Hopkins University. Through Epic, Emeka began a trial of clozapine, a medication for treatment resistant patients. Within a week, Emeka began to see great improvement. He recalls feeling like his recovery on clozapine was a "miracle."
On clozapine, Emeka finished high school with high honors, winning awards for every class. He didn't know exactly what career he wanted to pursue, but he was confident that he would succeed.
After high school, Emeka completed his Information Systems degree, graduating from Montgomery College, and today he continues to thrive in his bachelor's degree program at the University of Maryland's Global Campus. He has also been involved with the nonprofit organization, Students with Psychosis, for over a year.
Emeka says: "When it comes to young people with brain disorders, I would advise not to hesitate to receive help because there is both a physical and emotional need to be surrounded by people who understand. Working through the recovery process can feel overwhelming, but we can develop the resilience to achieve mental wellness."